Mystery Arch in the San Rafael Swell
A quick 2-day trip to the San Rafael Swell just south of I-70 led to a very strenuous day (May 7, 2021) with Dave Kennedy as we searched for a route to Tip Top Arch (failed), and ended up making a complicated circuit to Mystery Arch. On the drive on the 6th I stopped to climb Mt. Garfield in Grand Junction; the trail is very steep (850 feet in first half-mile) but pleasant.

The first objective was to locate Tip Top Arch, but Dave saw it from the road the night before we met. On May 7, 2021, I met Dave at milepost 147 on I-70 after spending the night in Green River. We then took the good dirt road (County Road 1028) south for about two miles and scouted a bit by car before deciding on a point of attack.

We first tried to reach Tip Top: the approach via Moonshine Canyon (above Moonshine Tanks) didn't work. The idea was that that would take us behind the Navajo sandstone reef. But even if we got there, it is not clear we could have climbed up and over to the arch. So we traversed on the front face to a position below the arch (we thought) and started climbing up. Two roped pitches (up to 5.2; I had a 30-meter rope) but then we were stopped by smooth slabs. We were 140 yards from the arch but never saw it.

Next we traversed with lots of steep up and down in an effort to reach Mystery Arch. Just as we gave up and headed down a canyon that, we hoped, would get us to the bottom, Dave spotted Mystery Arch above us (he had been there twice before). So we climbed up to it and it was spectacular. It is a double arch with a massive lintel. This arch was first seen from the air and since it was not so easy to find, that is the likely source of the name. It was first visited in 1989 by Jim Hurst and Lee Howland.

We then headed down the canyon; Dave knew that people had hiked up and down this "Mystery Canyon" (though he had not done so), so we were confident we could get down. Some rope work was involved: hand lines in three spots. We found one sling and rappel ring at the last steep part, but easily climbed down using only a hand line.

It was a very strenuous day (8+ hours) with temperatures reaching 91° for the last couple hours and I was exhausted for the last hour. I drove home that evening.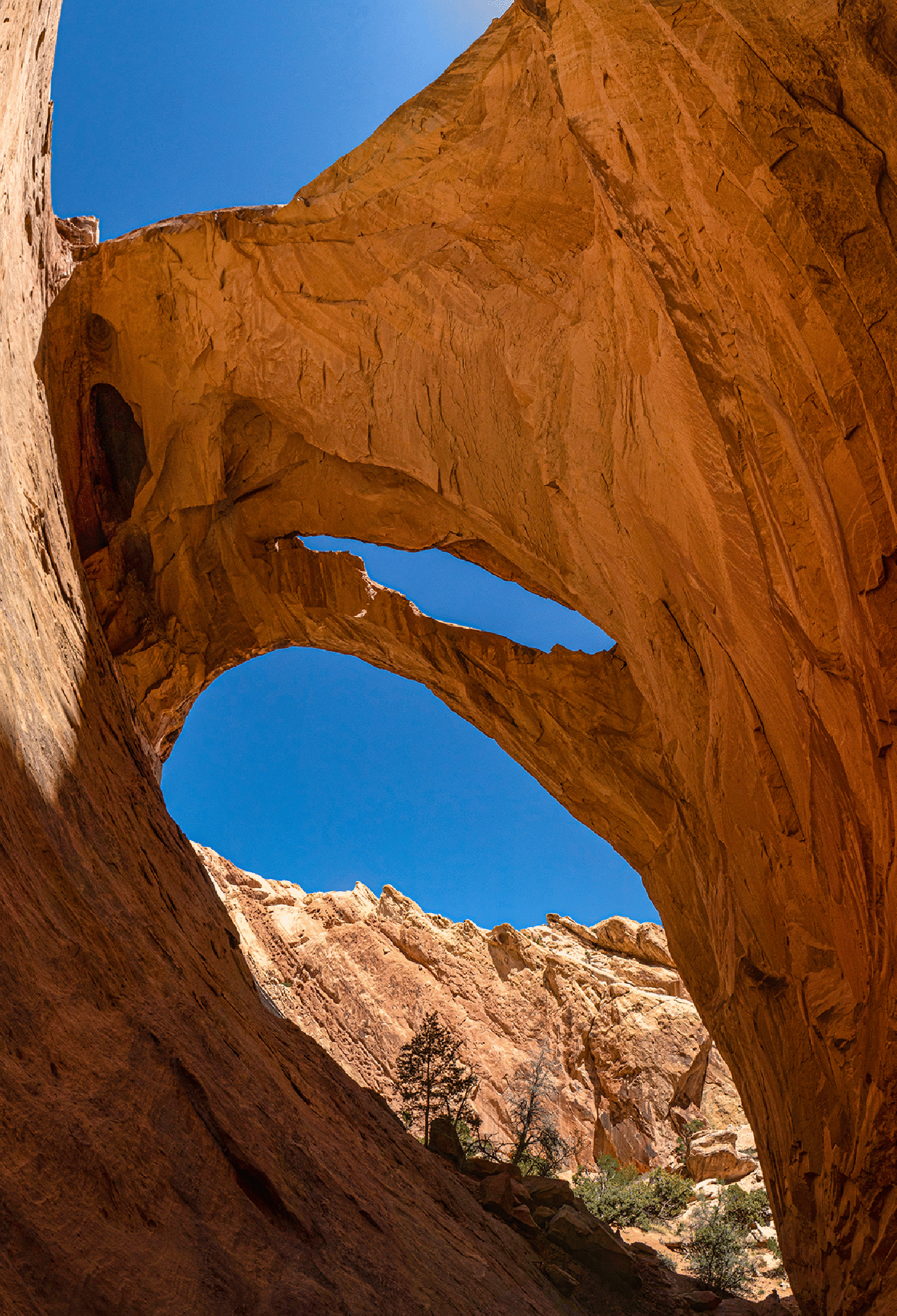 A 7-frame panorama (10 mm lens) taken from the steep slope behind the arch, which is a double arch in the Navajo sandstone. It is truly massive. Dave feels that this the "best" arch in Utah, when location, access, shape size, etc. are taken into account.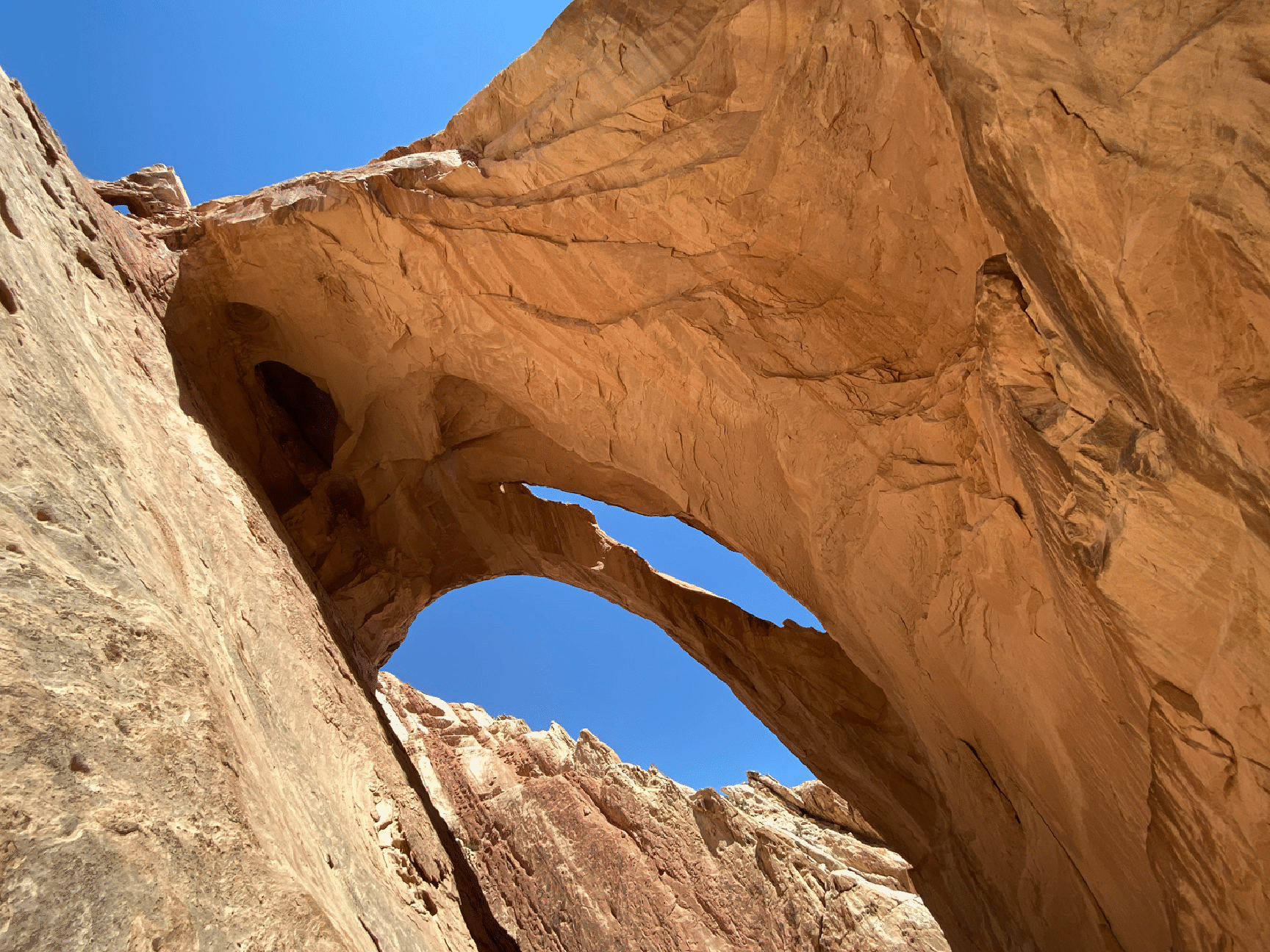 The shot above was taken with the iPhone 11 camera (4.3 mm lens). There's a tiny arch at upper left.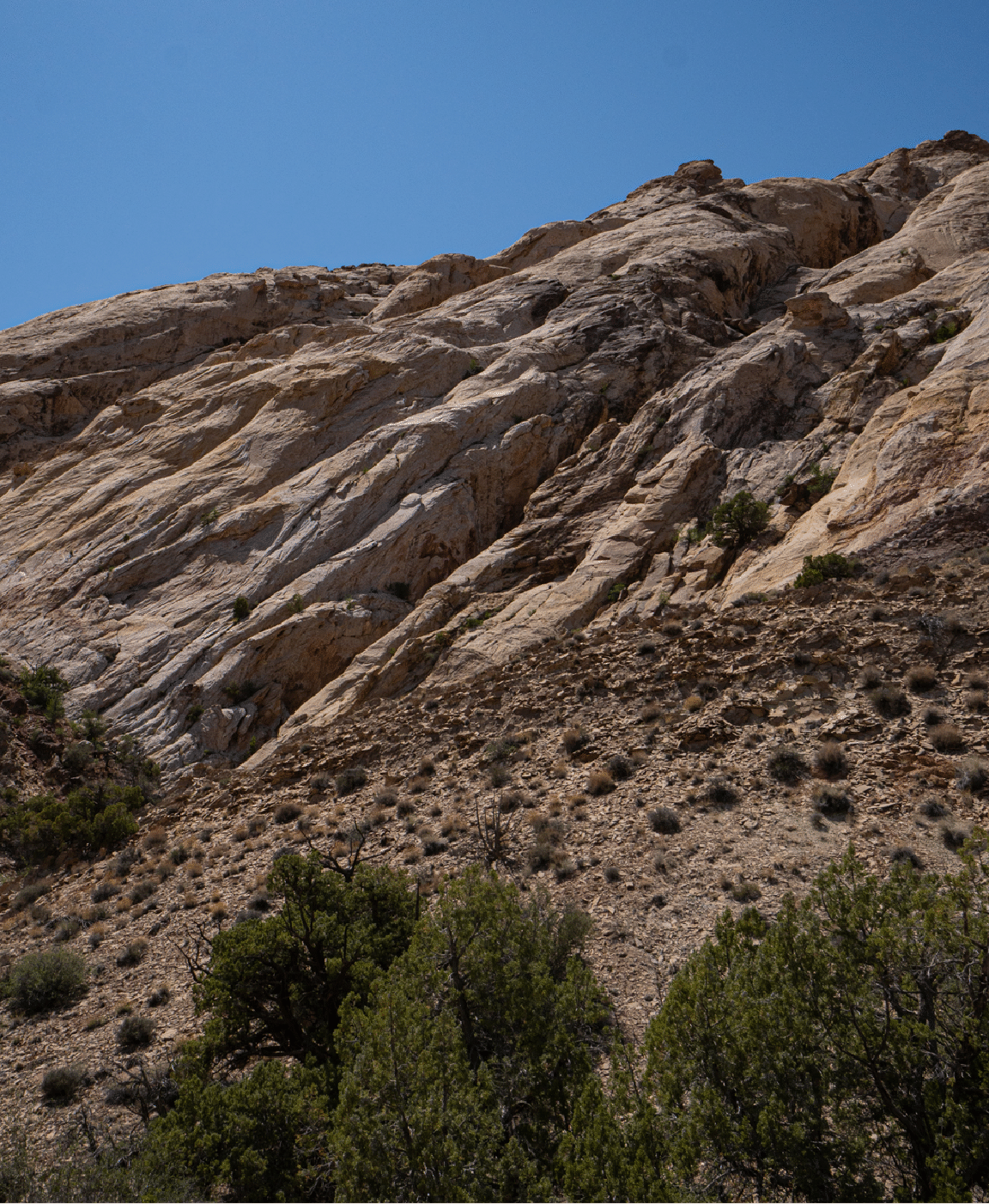 Our return was by the deep canyon in the center of the next image, with a detour around a pouroff near the bottom. We found one rappel sling and ring that appeared to be recent.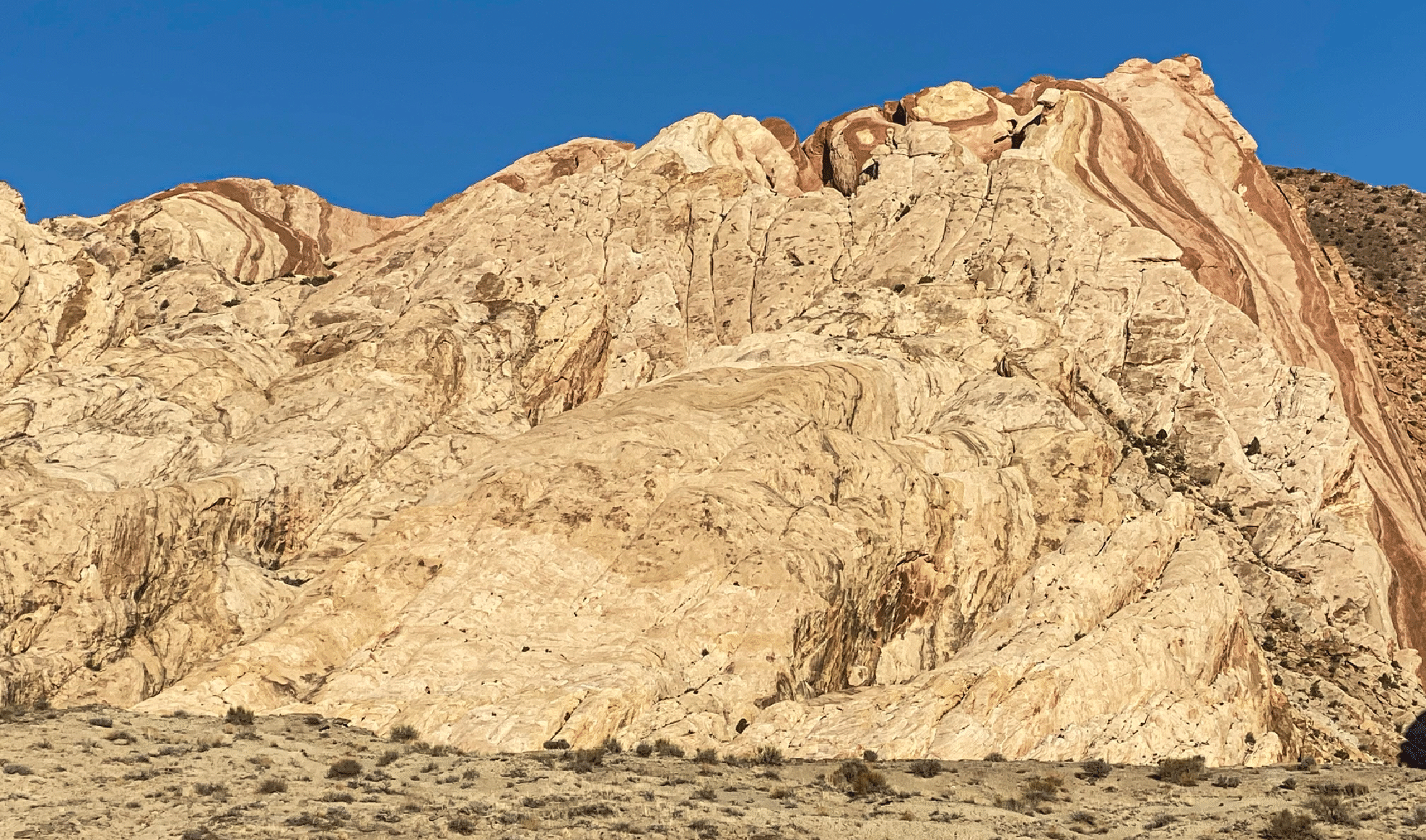 A view of the uplift in the morning as we left the car. Tip Top Arch is at the upper right, in the alcove that is below a "hamburger" formation (red rock sandwiched between a white bun and white base). Photo by iPhone camera.

Our track.